Coronation
of the Icon
of Our Lady
August 25, 2019
of Czestochowa
Coronation at the American Czestochowa
Mary, your home upon the hill rises above the land to fill it with light. And as fate would have it, to be for it an ever-shining sign of God's grace.
Towering over the Pennsylvania landscape, the American Czestochowa is a place where the faithful can feel the special radiance of Mary's presence, experience Her motherly love and intercession. It is not merely a sanctuary or the monastery of the Pauline Fathers, it is above all a place where man meets God, finds healing, forgiveness, mercy, and strength through His graces. It is thanks to Her, the one that shows us Jesus and leads us to Him. Mary is the Hodegetria, "She who shows the Way ". She is the one who, not only with Her hand but with Her whole life, shows us the best and surest way to salvation: Jesus Christ.
In this sacred place, we have heard the same words from Her for more than sixty years: do everything, whatever He (Jesus) tells you. Everyone who visits this place – be it distinguished persons such as presidents of the United States (Lyndon B. Johnson and Ronald Regan), holy people like Karol Wojtyła (now Saint John Paul II), or just a humble pilgrim who prayed here, confessed their sins here, received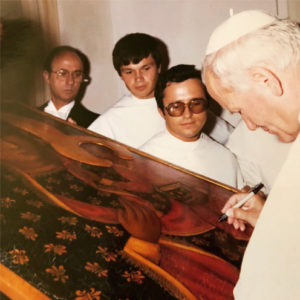 Holy Communion – all have left this place transformed, richer and more beautiful spiritually, strengthened in their faith. Hundreds of thousands of small and great miracles, recorded upon the pages of books and within the human heart, have occurred and continue to occur each day in this place. 
It was standing room only for the overflow crowds at the National Shrine of Our Lady of Czestochowa in Doylestown, PA, on Sunday, August 25, 2019, as Pilgrims from far and near came to honor Our Lady of Czestochowa at the Coronation of Her image.
The reverent Coronation ceremony took take place during the 12:30 pm Mass in the Main Church, with the Most Rev. Charles Chaput, Archbishop of Philadelphia, as Main Celebrant and Most Rev. Thomas Wenski, Archbishop of Miami, as Homilist.
---